AppsFlyer is a leading mobile marketing attribution platform known as an MMP (Mobile Measurement Partner). It gives marketers and app developers essential data and analytics to measure and optimize their app marketing campaign, so according to the needs of every client, AppsFlyer pricing varies. By tracking user interactions across various marketing channels, such as social media, in-app advertisements, and email campaigns, AppsFlyer helps businesses understand which channels are driving user engagement, conversions, and revenue.
However, Appsflyer's comprehensive features and real-time data processing come at a cost. As a mobile measurement partner, its services are designed to handle large volumes of data and provide accurate attribution, making it a powerful but costly solution for brands. Depending on the volume and the usage, its price can increase. Despite the expenses, many businesses consider the investment worthwhile due to the platform's ability to optimize marketing efforts effectively, resulting in improved user acquisition and overall revenue growth.
But what if I tell you there's a way to try it for free? This article will dive into Appsflyer pricing details, paid plans, and how you can get a free trial.
But first things first…
What Is The Value of Using AppsFlyer?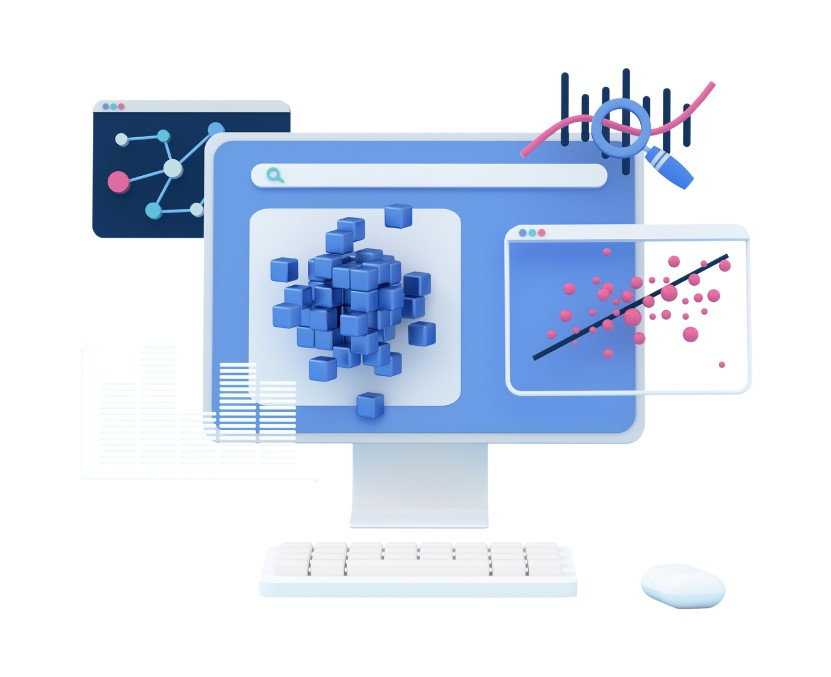 The value of using AppsFlyer lies in its ability to empower businesses with precise insights and data-driven decision-making for their app marketing campaigns. As a leading tracking mobile attribution, AppsFlyer enables marketers and app developers to accurately measure the different channel performance of their marketing efforts across various channels and media publishers.
This data-driven approach helps identify the most effective marketing channels, optimize user acquisition strategies, track costs, and maximize ROI. Additionally, AppsFlyer offers real-time tracking and comprehensive analytics that offer valuable information on user behavior, allowing businesses to reach smarter decisions and tailor their offerings to meet customer preferences.
By leveraging these powerful capabilities, businesses can enhance their marketing strategies, boost user engagement, and drive sustainable growth in an increasingly competitive mobile market.
Read more: Pay Per Install: The Good & The Bad Of This Pricing Model
What Are The Key Features of AppsFlyer?
AppsFlyer offers a range of key features that make it a valuable mobile marketing attribution platform. First and foremost, it provides accurate and real-time multi-touch attribution, allowing businesses to track user interactions across multiple channels with precision. The platform offers deep linking capabilities, enabling seamless user experiences and improved conversion rates.
Appsflyer's fraud protection feature helps identify and prevent mobile ad fraud, ensuring ad budgets are effectively utilized.
Its comprehensive analytics and reporting tools offer in-depth insights into user behavior and audience segmentation, allowing marketers to make data-driven decisions.
Moreover, the Appsflyer platform supports cross-device attribution, allowing businesses to understand customer journeys across different devices. These features collectively make Appsflyer an indispensable tool for optimizing mobile marketing strategies and driving meaningful business growth.
Read more: Our 11 Top Picks Of Free Apps That Pay Real Money Instantly
Appsflyer Pricing Model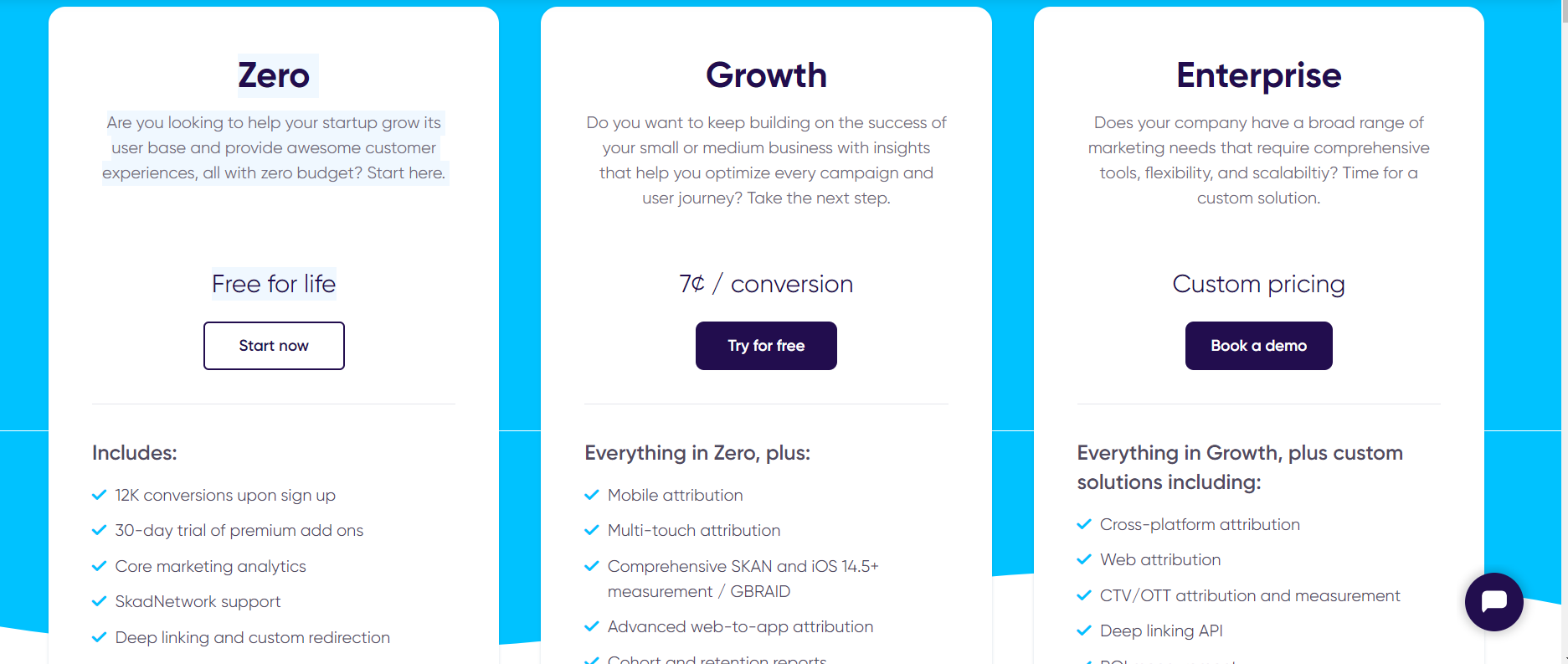 Businesses interested in utilizing Appsflyer's services can inquire about their pricing options directly from the company's website or by contacting their sales team. Please note that this information might be subject to change, so it is advisable to check Appsflyer's official website for the most up-to-date pricing and plan details.
Free Plan
Appsflyer typically operates on a subscription-based pricing model, where the cost is determined based on the usage scale and the specific features needed. However, they recently added a limited free access plan for evaluation purposes, which is ideal for startups and indie developers, but it has a few limitations regarding the install number and some additional features.
The full range of Appsflyer's features and capabilities is generally available through its paid plans.
Is there any way I can try Appsflyer for free with additional features and a higher install number?
Yes, there is a way you can try Appsflyer for free (with additional features and more than 15000 installs) for 45 full days if you partner with our agency. Contact our sales team to get a coupon code and start scaling your app through our unique user acquisition and engagement strategies.
Growth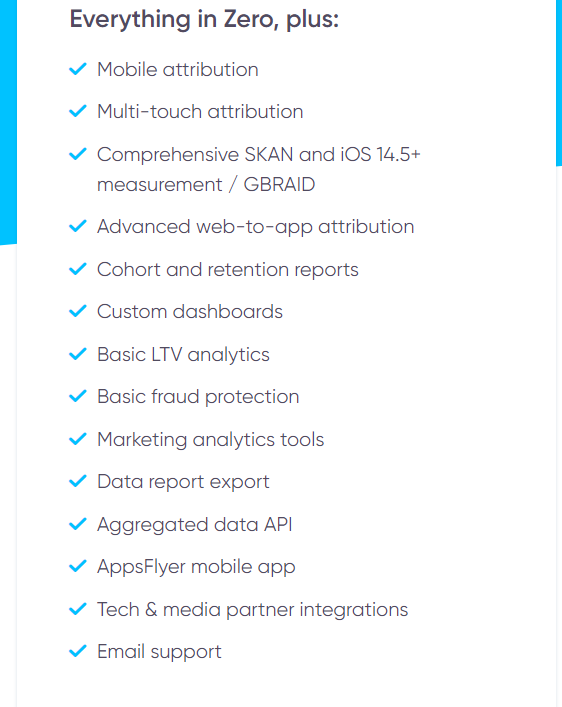 With its starting price at 7 cents per install, the Growth Plan includes all the free plan capabilities and is designed to cater to businesses with moderate marketing needs while providing essential features to optimize their mobile marketing efforts and measure ROI.
The AppsFlyer cost of this plan includes accurate attribution for user acquisition, tracking performance across various channels, and fraud prevention capabilities. It offers a comprehensive analytics dashboard for in-depth user behavior and campaign performance insights. The Growth Plan also supports deep linking, enabling seamless user experiences.
Enterprise plan
Appsflyer's Enterprise Plan is the highest-tier subscription offering tailored tracking mobile attribution to the advanced needs of large-scale businesses and enterprises. This plan provides a comprehensive suite of powerful features to optimize and scale mobile marketing efforts effectively, with custom pricing details. It includes all the benefits of the lower-tier plans, such as accurate attribution, multi-channel tracking, fraud prevention, and deep linking capabilities.
Additionally, the Enterprise Plan offers advanced customization options, dedicated support from a customer success manager, and access to specialized API integrations to meet specific business requirements.
The plan caters to businesses with significant data volumes and complex marketing strategies, making it an ideal solution for enterprises seeking sophisticated mobile marketing attribution and analytics.
Pay-Per-Use Plan
Unlike the subscription-based plans, the pay-per-use plan, with a starting price of 5 cents per install, allows businesses to pay only for the specific services they use rather than committing to a fixed monthly or annual fee. This flexible pricing model is particularly beneficial for businesses with varying marketing needs or those who prefer to manage their expenses based on actual usage closely.
By offering a la carte access to AppsFlyer's features and services, the Pay-Per-Use Plan provides cost-effective solutions for businesses of different sizes and marketing budgets.
This is our go-to suggestion for app brands that partner with us to test Appsflyer for free. Afte six full free weeks, brands can test their performance payouts, agency cost and usage. Contact our sales team now to get an exclusive coupon to partner with us and get your first six weeks for free in Appsflyer.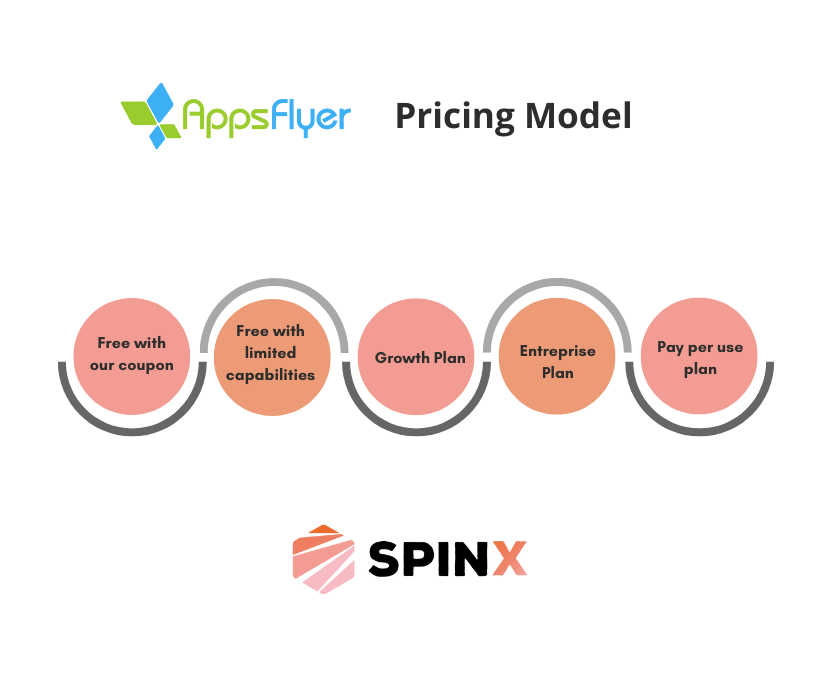 Final Thoughts
AppsFlyer offers various pricing plans and pricing details catering to diverse business needs and marketing objectives. From the Growth Plan, ideal for businesses seeking essential features to optimize marketing efforts, to the robust Enterprise Plan designed for large-scale enterprises requiring advanced customization and support.
Additionally, for those interested in exploring the platform's capabilities, contact our sales team for an exclusive coupon that gives you two months of free access and premium features when you partner with our agency.